Buying a home may seem like a daunting task at first.
But we like to break the process down to 7 easy steps that'll help our buyers purchase their dream home: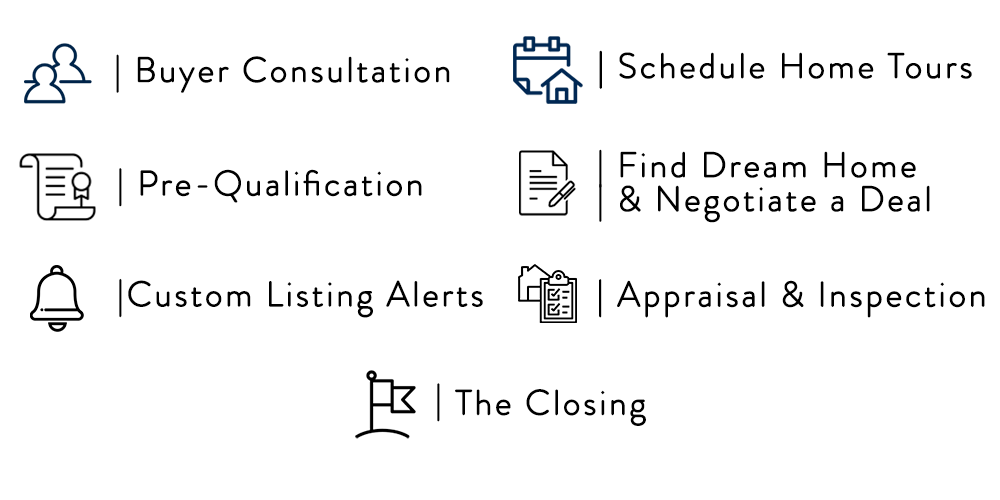 We want to get to know you and your specific needs not just send you a list of addresses to drive by. At our initial consultation our buyer specialist will determine your specific needs to help us find you the right home and avoid wasting your valuable time.

If we are thorough at this part of the process, it will make the home buying experience that much smoother. A lender who anticipates what documentation the bank will require, such as pay stubs, W2's, and tax returns will make sure that you are set up and ready to go with a pre-approval in hand. In a seller's market, this is crucial since it will set you apart from the rest of the pack when faced with a multiple offers situation. The lender will do a full review and then tell you what you will be able to borrow in order to purchase a home.

After our initial consultation we'll be able to set you up with automatic listing alerts tailored to your needs. This will make it possible for you to be notified of listings that come on the market in real time. If you like one, you let us know and we'll get you scheduled to see it before the crowds start to come out.

This is where the fun begins. Now we are ready to schedule showings at those homes we've selected from information gathered through the consultation process. We will have compiled a list of homes that are listed on the MLS and some that may not be listed. From these you should be able to pick your dream home.


This is where our favorite part begins and we go to work for you to get the best deal possible. We'll walk you through the offer making process and make sure we draw up an offer that will have the highest likelihood of getting accepted. Then, we'll work together to get your financing in order and move forward to the next step!

Once your offer is accepted it's time to make sure you meet all of your obligations under the contract. This can be scary for most people but our experts do this every day, multiple times a day and will walk you through each step of the way. The appraisal will assure you that the price of the home is in line with a fair market price. The inspection will give you the piece of mind of knowing that you will have stress free and enjoying living in your new home for years to come.

The title company or your attorney of choice will have prepared for this day in advance. They have been in touch with the lender, they've checked for clear title and prepared a title insurance policy that no surprises come up after the closing. On the closing day they will review and have you sign off on all of the loan documents and transfer documentation and finally hand you the keys to your new home.